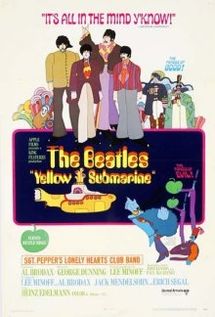 The Beatles classic 1968 animated movie Yellow Submarine is coming to theatres for one night only.
According to the press release: Cineplex Entertainment, via our Front Row Centre Events and EMI Music today announced Yellow Submarine, the animated feature released in 1968 starring The Beatles, returns to the big screen for one night only on Thursday, May 24, 2012, show times vary by location. Currently out of print, this landmark movie has been restored by hand, frame-by-frame in 4K digital resolution for the first time by Paul Rutan Jr. and his team of specialists at Triage Motion Pictures and Eque Inc.
"Yellow Submarine has been delicately restored, bringing back the rich and vibrant colours it was known for and the legendary music of The Beatles comes to life in 5.1 Dolby digital surround sound," said Pat Marshall, Vice President, Communications and Investor Relations, Cineplex Entertainment. "The Beatles remain one of the biggest bands in music today with generations of fans who will not want to miss this masterful and influential movie that we have brought back to the big screen for one night only."
The Beatles' classic 1968 animated feature film, Yellow Submarine, has been digitally restored for DVD and Blu-ray release on June 5 in North America. The film's repackaged song track album will be reissued on CD on the same date.
About Yellow Submarine
Once upon a time… or maybe twice, there was an unearthly paradise called Pepperland, a place where happiness and music reigned supreme. But all that was threatened when the terrible Blue Meanies declared war and sent in their army led by a menacing Flying Glove to destroy all that was good. Enter John, Paul, George and Ringo to save the day! Armed with little more than their humour, songs, and of course, their yellow submarine, The Beatles tackle the rough seas ahead in an effort to bring down the evil forces of bluedom.
Directed by George Dunning, and written by Lee Minoff, Al Brodax, Jack Mendelsohn and Erich Segal, Yellow Submarine began its voyage to the screen when Brodax, who had previously produced nearly 40 episodes of ABC's animated Beatles TV series, approached The Beatles' manager Brian Epstein with a unique vision for a full-length animated feature.
Yellow Submarine, based upon a song by John Lennon and Paul McCartney, is a fantastic tale brimming with peace, love, and hope, propelled by Beatles songs, including "Eleanor Rigby," "When I'm Sixty-Four," "Lucy in the Sky With Diamonds," "All You Need Is Love," and "It's All Too Much." When the film debuted in 1968, it was instantly recognized as a landmark achievement, revolutionizing a genre by integrating the freestyle approach of the era with innovative animation techniques.
Advance tickets for Yellow Submarine are now available at participating theatre box offices and online at www.cineplex.com/events or our mobile site m.cineplex.com. A portion of the proceeds generated from ticket sales to this event will be donated by EMI to MusiCounts.
Yellow Submarine will be shown on May 24, 2012 at the following theatres:
SASKATCHEWAN
Moose Jaw
Galaxy Cinemas Moose Jaw, 1235 Main Street N
Prince Albert
Galaxy Cinemas Prince Albert, 2995 2nd Avenue
Regina
Galaxy Cinemas Regina, 420 McCarthy Boulevard N
Saskatoon
Galaxy Cinemas Saskatoon, 347 2nd Avenue