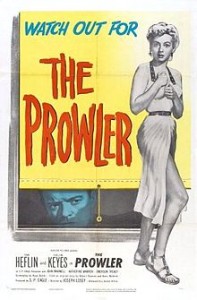 Police officer Van Heflin and his partner respond to a call about a prowler. A young married woman (Evelyn Keyes) is alright but alone at night. Heflin returns later to check up on her and finds out that her wealthy husband is a late night radio DJ. Heflin keeps visiting Keyes striking up a friendship.
Heflin then discovers a will that leaves a tidy sum to Keyes in the event of her husband's death. Heflin then starts romancing Keyes and soon the two are having an affair. Then Heflin comes up with a plan to do away with the husband.

This 1951 film noir takes the basic plot of Double Indemnity and shakes it up a bit. Keyes is pretty oblivious to the sinister plans that Helfin has and he almost gets away with it. Of course thanks to Hollywood's production code he can't which makes for an entertaining ending.
Director Joseph Losey had previous made remake of Fritz Lang's masterpiece M. After finishing this film Losey was blacklisted by the House Un-American Activities Committee. Losey left the country and starting making movies in Britain where he worked under different pseudonyms. Dalton Trumbo who was already blacklisted when he had worked on the screenplay but was naturally uncredited.
Van Heflin and Evelyn Keyes are both good in this is a great but forgotten film noir.
https://www.youtube.com/watch?v=HR5r47Y6Zw0