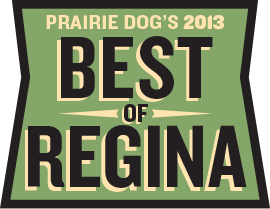 HEY!!!!!!!
The Best Of Regina nomination phase ends some time today. There's some confusion when: it might be 1:00. It might be 2:00. It might be the end of the work day. In any case, it's closing soon. Very, very soon.
What does this mean? This means that if you haven't nominated your favourite local businesses, people, arts stuff and more, you have to do it NOW or it will be TOO LATE and your life will be FULL OF REGRET.
And if you run a local business and want to make sure your company/service get on the final ballot, you'd better get off your butt and get the vote out FAST.
The link is here. So get nominating before it's too late!
Final voting — for which you can win a prize package worth $1000 — starts Wednesday.