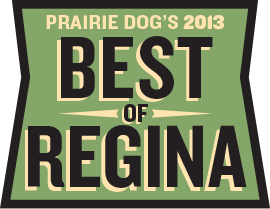 As I sure hope you're aware, this year's Best Of Regina will be a  multiple choice ballot. So how do we pick the people, businesses, services, artists and other candidates? Ha ha! We don't! You do! The Best Of Regina nomination round is open for a few more days, so click here, register and write in your favourite folks, shops, media types, arts events and stuff like that.
If you don't nominate your favourite (for instance) Regina athletes, comedians, exotic pet shops, locally owned businesses, bands, failed politicians and plumbers? Then they're not gonna end up on the final ballot. So dooo it!  Because if you don't, and the Best of Regina final ballot goes up and  the choices stink, it will be all your fault.
You've got until Monday afternoon. Go!