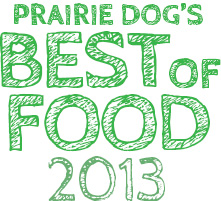 April is the polling month for the epic democratic nonsense that is Prairie Dog's annual Best Of Food reader's poll! Pick up a copy of the latest 'Dog for a list of the categories, or just head here to vote for your favourite restaurants, meals, bars and pubs, and food people right now! The more votes we get, the more fun and meaningful the results will be.
I'm so excited about Best Of Food 2013 that I'm going to showcase one category every day until voting ends next week. Today's spotlight: Best Hash Browns.
I love hash browns! These fried breakfast friends are so delicious! True hash browns are a fried-up pile of shredded (hashed) potatoes but the term also applies to fried chunky potatoes, fried cubed potatoes, deep-friend potato patties and pre-formed fried heart attack nuggets. They're salted, seasoned and often have fired fried onions mixed in. Yum! Hooray for hash browns!
What restaurant served Regina's best hash browns over the last 12 months? What place has the hash browns you'd want to feed your sexy, potato-loving  breakfast date? Let everyone know by voting in Best Of Food 2013!
(And if you don't give a hoot about hash browns you should still vote, because s0meone's going to win $500 in gift certificates to some of Regina's best restaurants. It might as well be you!)