Put in your finest eye diamonds, it's time for the Week 6 edition of Aw NFL Naw.
Grumpalumps: Is there anything better than seeing the sour look on a coach's face after they lose? Just watching them do the  ol' pout n' jog to midfield for their goofy "we're serious warriors shaking hands while wearing athleticwear" handshake makes life worth living. Mike McCarthy did this at the end of last week's Packers/Colts game and it was so goddamn sweet that I'm pretty sure it gave me the vapours.
Ad Break: They were the Odd Future of their time.
Tremble Before The Might Of Cleatus: My friend Justin was in Seattle a couple weeks back for the Monday Night Seahawks/Packers Day The Replacement Refs Died game. He sent me this picture and I can't thank him enough.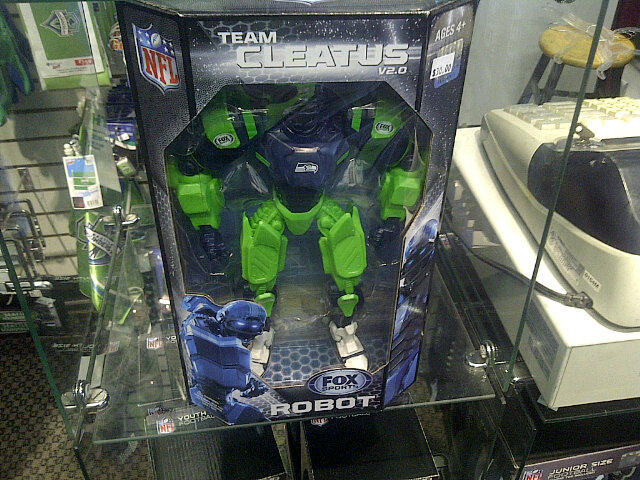 My Five Favourite Things About This Picture
1) A mugging hillbilly robot has his own action figure. Finally! (space saved for a sassy bit of political commentary that the reader comes up with themselves)
2) The "Robot" label at the bottom of the box. Is this a box filled bees? No! That robot looking thing is a robot. DO NOT TRY TO INGEST IT BECAUSE IT LOOKS LIKE MEDICINE, WE MUST ASSURE YOU THIS IS A ROBOT. IT IS NOT YOUR ESTRANGED DAD, LOOK AT THE LABEL! IT IS A ROBOT!
3) This is the Seattle version of Cleatus, which means this edition of Cleatus finds Pete Carroll to be gawshdarn adorable and not an insufferable gash.
4) This is version 2.0 Cleatus. Now programmed to follow the Three Laws of Robotics! This is quite the improvement for owners of Cleatus version 1.0 that watched as the robot figure choked out members of their family with an extension cord.
5) If children are playing with the Cleatus figure, what adventures do they have him go on? Does he hang his head solemnly as a Batman action figure is carted off the playing field or does he spend his time drinking Bud Light Lime Mojito while making poorly researched claims about the upcoming U.S. election? Oh the power of a child's imagination!
Please Give Me A Pamphlet letting Me Know How Kennedy Is Doing: I did a talking head thing for MTV a couple weeks back, which was a lot of fun. I loved doing it, but it did shake up all my really dumb ideas of how TV works. I assumed  that I would walk into a building filled with showgirls and cartoon tigers and V.I.C.I.s and that all the doors would lead to game shows or infomercials or Miller-Boyett Productions. (Some of my thinking may have been informed by the surprisingly scary movie Stay Tuned.) Instead, I walked into an old building that was architecturally fantastic but seriously lacking in talking animals or laser beams. It was a bit jarring. It took everything in me not to blurt out something like: "where do y'all keep the Andre Braughers?" like the yokel that I am.
Week 6 Game To Watch With Your Eyeballs And/Or Listen To With Your Earpowers: Packers at Texans This is a Sunday Night game so I'll be missing it to watch TV of varying quality. Once Upon A Time is part of my viewing schedule. It's 10% fun/90% irritating, but season one featured the death of the forgotten eight dwarf "Stealthy". Any show that gives the viewer the opportunity to scream "Stealthy!" in anguish is a-okay in my book.
(Is Call The Midwife worth watching? Please let me know. Either in the comments or via postcard.)
Week 6 Game Not To Watch With Your Eyeballs And/Or Listen To With Your Earpowers: Chiefs at Buccaneers Kansas City has Brady Quinn Fever! Brady Quinn Fever is basically just football SARS. I'm pretty sure Quinn's made it this far in his career because he has the name of a douchey Prom King. Prom Kings are good at football or something, right? That's what movies done told me! (Sorta related note: Angus wasn't as good as I imagined it was.) It's not hard to picture Quinn hanging out in a high school parking lot bumming smokes, putting his Notre Dame jacket on girls he thinks "need a little warming up" and still managing to have a terrible completion percentage when throwing Balance bar wrappers into the trash.
Guests Saying Junk: This week instead of having a Guests Saying Junk guest, I insist you go see Jayden Pfeifer – Live At The Artesian. On October 11th and 12th, Jayden will be doing an hour of comedy magic and you could bask in this Regina treasure's glow. So much glow to bask in! (Attendance is mandatory.)
Wheelbarrow us home, Grum.
Feel free to gab at Dan on Twitter or in the comments. He might be going to Buffalo this weekend, which means he might go on the Buffalo Ghost Tour and John Rzenick Tour.