Factor has a chipper outlook on death
by Chris Morin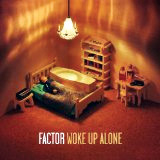 Factor
Woke Up Alone
Fake Four

Death is a scary thing, and so is love. But they make for excellent songwriting fodder, especially when combined.
On his ninth solo full-length, Saskatoon's Factor — a.k.a. Graham Murawsky — has crafted a musically complex hip-hop album that blatantly obsesses over love, loss and death without giving in to moroseness or heavy-handedness. And damn, the boy looks good in a black suit and tie.
The album is "a necromantic play told in five scenes," and it's laid out in a guest appearance by Oakland rapper Kirby Dominant in "The Empire Has Fallen". "It's called necromancy/when you bring the dead back to the zone of living, actually," raps a smooth-tongued Dominant, who also appears on two other tracks. Death is rarely so catchy.
Despite Woke Up Alone's upbeat tendencies, dancing at a funeral is tricky business and tends to get you kicked out of graveyards.
The record features plenty of adventurous vocals via Astronautalis, Jeans Boots, Ceschi and Gregory Pepper, with an array of samples falling far outside the rap realm. The opening and title track begins with a blast of indie-rock fervour, trombones bleating amidst 'verbed-out guitars snaking in over beats. Even so, Woke Up Alone is a pure flexing of hip-hop muscle, and is a testament to Factor's musical dexterity.
[hr]
Hunx and His Punx
Street Punk
Hardly Art

Hunx and His Punx have returned and they're still as delightfully snotty-n-sleazy-n-sloppy as ever, if noticeably less glammy. Seth Bogart (Hunx) and Shannon Shaw (of garage punk treasures Shannon and the Clams) split the songwriting/singing duties on Street Punk, an album bubbling with the sounds of go-fuck-yourself punk and chip-on-their shoulder style '60s girl groups. Tracks like "Bad Skin", "Everyone's a Pussy (Fuck You Dude)" and "Don't Call Me Fabulous" blast out like "burn down the school gym" anthems. "Mud in Your Eyes" sounds a bit like an alternate dimension She and Him cut, while "Born Blonde" smacks of the confident brand of glam pop of that radiated through the last Hunx and His Punx album. Clocking in at a super-brisk 20 minutes, Street Punk charms at breakneck speed. It's a quickie with spunk to spare. /Dan MacRae
[hr]
Fur Trade
Don't Get Heavy
Last Gang

Steve Bays seems to be interested in anything but Hot Hot Heat these days. The indie-rockers made a splash with their Sub Pop debut, followed by a lost-in-the-shuffle major label record and a 2010 album for Dine Alone called Future Breeds that blew the already frenetic quality of Bays' vocals out to near schizophrenic levels. Since then, Bays dropped into other projects, including Mounties, a recently announced collaboration with Hawksley Workman and Ryan Dahle. His other act of the moment is Fur Trade, a duo he formed with Parker Bossley. It's a better use of Bays' talents than the last Heat record –– his amped-up vocal style is well suited to a two-man operation. From the opening track on, they dive into "music of the moment" with chillwave vibes, but stick with a level of musicianship that makes it justifiable. /James Brotheridge
[hr]
The Mallard
Finding Meaning in Deference
Castle Face

It's interesting how a band's stylistic "growth" can be such a meaningless metric of how good they are. The first Mallard album, Yes On Blood, was a piece of contemporary San Francisco garage rock: decent, if not a little played out. Deference, though, swaps that style for '80s post-punk. Brooding synths, high-on-the-neck bass lines –– even the title sounds like something Wire came up with. And it's all for the better. There are some missteps, like the dorky shuffle of "Warmth of Youth". But they're offset by truly great stuff like the menacing "Iceberg". Unfortunately, many cuts on this album suffer from Probably Sounds Better Live Syndrome, which is sad seeing as the band broke up earlier this year before releasing Deference. /Mason Pitzel