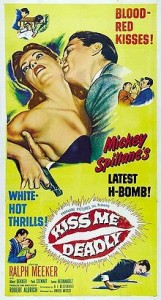 On the third of Christmas, my true love gave to me – a mysterious lead box that's extremely hot to touch and people will kill for it .
Robert Aldrich's Kiss Me Deadly is one of the best adaptations of Mickey Spillane's novels – although the movie deviates greatly from the novel. But it does add the mysterious glowing box that Quentin Tarantino borrowed for Pulp Fiction.
Ralph Meeker plays Mike Hammer to perfection. He's two-fisted, somewhat corrupt and completely ruthless. The movie starts with Hammer driving down the highway and almost running over a nearly naked Cloris Leachman (in her first screen role). She has just escaped from a mental hospital and is wearing nothing but a trenchcoat. Soon another car runs them off the road and Hammer briefly wakes up to Leachman's screams as she is tortured in an unknown apartment. The next time Mike Hammer comes to is when Leachman's dead body – along with himself is pushed over a cliff in his car. Naturally Hammer wants to get to the bottom of it all.
At the bottom of it all is a mystery box that everybody is looking. The film builds to an ending that's explosive – literally.
For those who like spoilers – here's the climatic box opening scene. I strongly suggest you don't watch and watch the entire film instead.